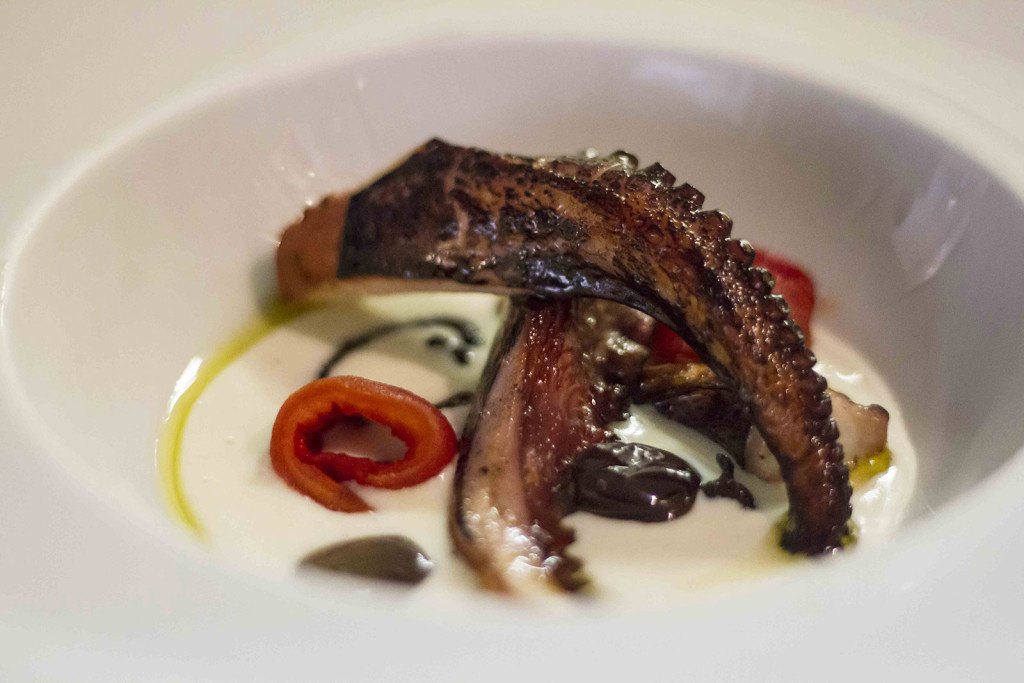 Octopus is one ingredient I'll never be without in my kitchen.
The reason for this is so simple as to appear banal: it reminds me of the sea and, with it, the land I come from and my childhood in Naples.
Following the course of memory, I came up with the following recipe: grilled octopus with cream of potato, tomato confit and olives. A dish with simple, clean flavours… just as I like it.
Ingredients
1

kg

Octopus

from Terracina

200

gr

people

200

ml

milk

5

filleted anchovies

1

clove

Garlic

12

cherry tomatoes

12

Itrane (or Gaeta) Olives
Istructions
Preparing the Cherry Tomato Confit
Slice the skin of the cherry tomatoes, then run boiling water over them and remove the skins.

Spread extra virgin olive oil over a baking tray and cover with a dusting of sugar.

Lay the cherry tomatoes on the mixture of oil and sugar and season well with a pinch of salt and a sprinkling of grated orange peel. Then put in the oven for 1 hour at 100°C.
Preparing the Octopus
Boil the whole octopus in a court bouillon (water, celery, carrots, onion, 1/2 lemon, parsley stems, tomatoes) for 10 minutes, then turn off the heat and leave the lid on the pan until the water has cooled.
Preparing the Potatoes
Dice the potatoes and leave them to brown in a pan for 5 minutes with a bit of olive oil and some garlic.

Add the anchovies and the milk, mix together and lower the heat.

Once well cooked, mix the potatoes in a blender, press them through a sieve and season with salt to taste.
Plating Up
Fry the octopus tentacles with a bit of olive oil in a non-stick, hot frying pan for 2 minutes.

In a soup plate, pour 2 spoons of cream of potato and lay the octopus tentacles on top. Serve each dish with 3 confit cherry tomatoes, 3 pitted olives and a drizzle of olive oil.
Chef Frisone's Tips
Every Italian family has its own tales and traditions concerning the best method for cooking octopus: tenderising it, freezing it, slow cooking, with a cork… are but a few! I want to recommend my method for the perfectly cooked octopus: leave it to boil in water for 10 minutes and then turn off the heat. The water will cool gradually whilst cooking the octopus, which will stay perfectly al dente.
This technique allows the octopus to continue to cook, at the same time as avoiding the risk of going too far, and keeps the octopus skin intact, which is essential both to the appearance of the dish and to the feelings of the different textures you get when you eat it.
A wine to accompany it? I recommend a Frascati DOC Superiore Racemo from the Agricola l'Olivella company.