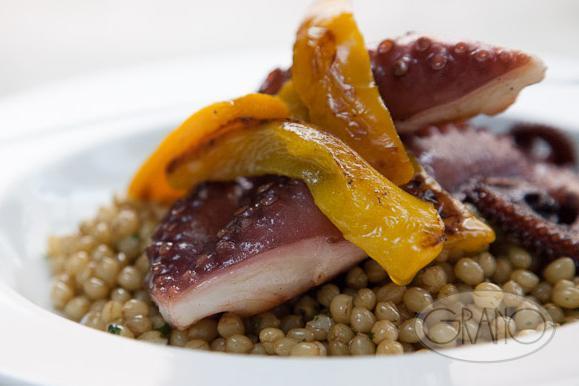 An original and fairly simple recipe, though not very quick as you need to leave the wheat to soften for 12 hours.
Full of flavour and very healthy, it is a popular dish suitable for a lunch party. Discover how to prepare grilled octopus with durum wheat and peppers.
Chef Frisone's Tips
Every Italian family has its own tales and traditions concerning the best method for cooking octopus: tenderising it, freezing it, slow cooking, with a cork… are but a few! I want to recommend my method for the perfectly cooked octopus: leave it to boil in water for 10 minutes and then turn off the heat. The water will cool gradually whilst cooking the octopus, which will stay perfectly al dente.
This technique allows the octopus to continue to cook, at the same time as avoiding the risk of going too far, and keeps the octopus skin intact, which is essential both to the appearance of the dish and to the feelings of the different textures you get when you eat it.
A wine to accompany it? I recommend a Frascati DOC Superiore Racemo from the Agricola l'Olivella company.