Piennolo tomatoes are typical of the Vesuvius area of the Campania region, awarded DOP certification (Protected Denomination of Origin)..
There are several characteristics that make is so sought-after: an oval shape gently elongated into a heart, a very thick skin, compact flesh with little juice dried by the sun and of a deep red colour. Their intense flavour is sugary tending towards sour, due to the high concentration of sugars and mineral salts they contain.
Their uniqueness is derived from the earth on which they ripen: they grow in the area surrounding Mount Vesuvius, on stratified land created by lava flow millions of years ago.
Their unusual and unique name relates to an ancient custom, according to which peasant farmers tied the tomatoes to a piece of thick twine, creating a 'piennolo', that is a 'pendulum', or a bunch of tomatoes hanging in a vertical position.
These tomatoes form the basis of cooking in the Campania region, and are valued and purchased throughout Italy. Indeed, still today, on summer days in Naples, it is possible to spot these tomatoes on people's balconies, hanging to dry in bunches from a metal hook.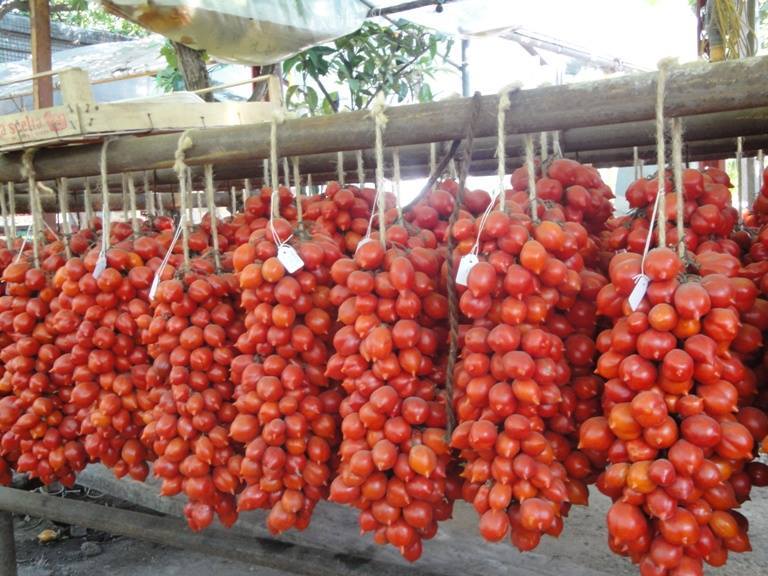 Piennolo Tomatoes: from the earth to your table.
Piennolo tomatoes are synonymous with Mount Vesuvius. There are witness accounts of their cultivation dating right back to 1858!
They are grown at high altitude, on land that is difficult to reach and with only restricted space available. This is the main reason behind their value, which is higher than that of other tomatoes on the market. And this is also the reason why, despite many attempts to imitate them, Piennolo tomatoes remain unequalled.
This same land on Vesuvius also guarantees intense and constant sunlight, which is fundamental to the growth of the Piennolo tomato.
Once they have been harvested, the tomatoes can be eaten immediately or preserved in order to use them at any time throughout the year: thus they can be found on vegetable stalls, hung out to dry. And this is how they are preferred by those with a taste for strong, intense flavours; indeed, as the months go by, their fragrance and flavour increase in intensity.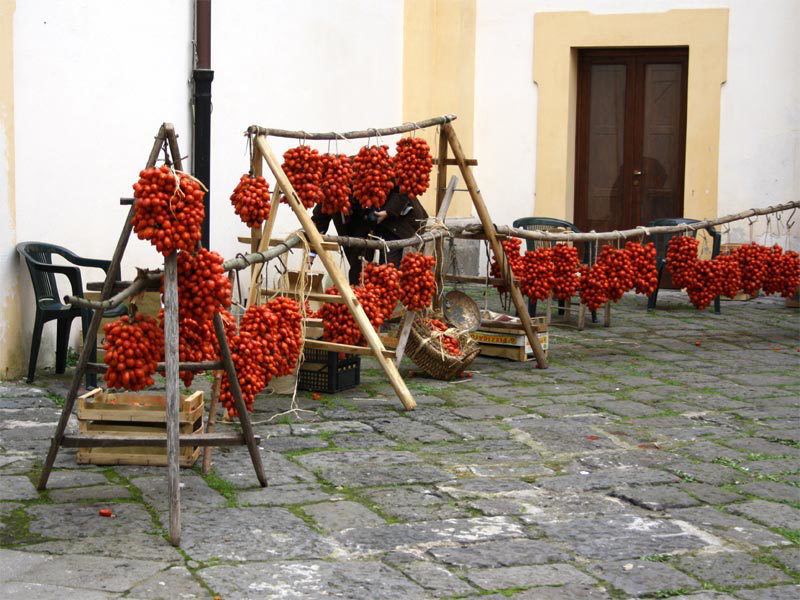 Piennolo tomato: how to use them in Cooking.
There are a great many recipes in which you can use Piennolo tomatoes. Thanks to their refined flavour, they can be used to enrich a wide variety of dishes, adding a touch of class and unrivalled flavour.
Piennolo tomatoes really come into their own when used in a typical summer dish, such as Linguine with fresh tomato and basil, perfect for really getting a taste of their freshness.
And there are a great many Campania regional dishes whose flavour depends on Piennolo tomatoes: first of all, Pizza Napoletana, in its simplest forms (pizza margherita, pizza with Cetara anchovies, oregano, basil, Gaeta olives, Piennolo tomatoes, vegetarian pizza); followed by both fish and meat-based pasta dishes, such as Scialatielli with sausage, basil and Piennolo tomatoes or Tagliatelle with clams and Piennolo cherry tomatoes and Mezze penne with courgette flowers and Piennolo tomatoes.
An interesting fact: Piennolo tomatoes are also used in desserts, such as Vesuvius Millefeuille with Piennolo cherry tomatoes and Sfusato lemon!
At the Grano, we know how much of a difference this one ingredient can make and we have come up with our own unique recipe: Fettuccine with baccalà and Piennolo tomatoes…
By Danilo Frisone
|
Blog
|
0 comment